Things To Do In Quarantine, Vol. 5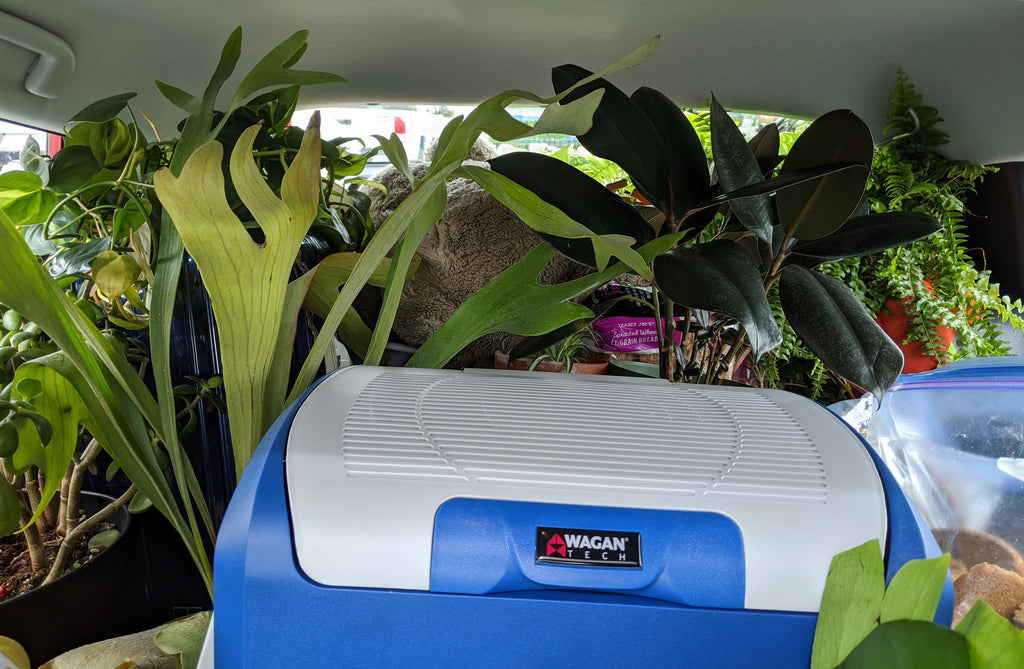 Let's try something new, shall we? My friends Debbie and Chelsea road tripped cross country for Chelsea's job relocation from Chicago to Seattle. I bet you're thinking of hitting the road this summer too. So, to help you out, I invited them to give you some pro-tips for road trips. 
Ladies, take it away.
*** 
My wife and I drove 30 hours and just over 2,000 miles with a bunch of houseplants, a bicycle trainer, and our sourdough starter. If you don't need to bring your houseplants, your trainer and your sourdough starter, don't – it's kind of a pain. But here are the useful things we brought, and some things we learned along the way.
1. Get a plug in car cooler.
My road trip guilty pleasures are egg white Egg McMuffins and as many barbecue potato chips as I can eat. Unfortunately, a pandemic is not the time to stop at roadside eateries or convenience stores, so we packed a 12v plug in car cooler full of food. It was the number one smartest thing we bought for the trip.
A few cans of tuna, some peanut butter, trail mix and these sweet bites of manna rounded out our car food. Seriously, get on that spring mix. And don't forget to bring along a sharp knife, utensils, a roll of paper towels and some sharing bowls. Upcycled empty cottage cheese and yogurt containers work great (Alessandra would like to mention that she would have color-coordinated glass containers at the ready, but to each their own).
2. Plan your caffeine.
My wife is serious about her coffee, and most hotel coffee is brown acid water, so I got us "coffee tea bags" like these. We are a little high maintenance and brought our own electric kettle, but don't do that. Most hotels have in-room coffee machines, so sanitize the surface with an alcohol or bleach wipe, then go ahead and brew some hot water. 
3. Plan your happy hour.
After a long, kind of stressful day of pandemic road tripping, you'll want to unwind. For us, that means having a glass of wine. Going to a hotel bar was off limits, so we unapologetically traveled with a box of Trader Joes Cabernet Sauvignon. Shatter-proof packaging, a great bang for your buck, and, the internet agrees, it's not bad at all. 
4. Stay hydrated.
Fill up one of these because water fountains are shut off right now and you don't want to fill your water bottle in a rest stop bathroom. Also, fizzy water helps keep me awake, so we had some cans floating around the car too.
5. In Your Lodging:
You know the drill–wipe down high-touch surfaces and wear your mask when you're in the public areas. My biggest recommendation here is to trust your gut. We pulled into a hotel in Idaho that was busting at the seams with mask-less bar-hoppers – we did not end up staying there. 
6. On the Road:
Download your maps! You never know when you'll lose reception and you don't want to go in anywhere to ask for directions. Download your playlists too, because in that dead, arid stretch of North Dakota you'll be sad and bored without your music. 
7. Road Clothes:
Comfy and cozy without looking schlubby, that's my m.o. I like moisture wicking pieces that don't wrinkle, like these. 
And Chelsea literally does not travel anywhere without this. No joke, and it's not just because Alessandra is our friend. The blanket is the perfect size for traveling, and sometimes she even wears it as a shawl. It's like a little bit of home when we're on the road.
Bonus: Final Thoughts
It was hard passing points of interest and cute little towns without stopping–that's usually the best part of a road trip. But remember, road tripping right now is about getting from point A to point B safely and with as little impact as possible on the places you're driving through. Keep a list of all those great places you wanted to stop – it'll make post-pandemic travel plans easier and give you something to look forward to. 
Debbie (out of frame) and Chelsea (in frame), and their (PACKED!!) car during their cross country road trip.